About
Único Candles, LLC started with my wife and I trying to do something together.  In the fall of 2019  I started teaching a ceramics class at the high school where I teach Art and created some beautiful containers, but I wanted to find a purpose for them. After a while I thought about my
wife's love of making her own candles and I thought we could combine forces.  We put our two passions together and started making unique, one-of-a kind hand poured candles.
Why the name Único?  Because when you purchase one of our ceramic candles, they are unique and one-of-a kind.  There will not be another like it EVER!!  Each ceramic candle is hand thrown on the pottery wheel and hand poured making it a unique work of art.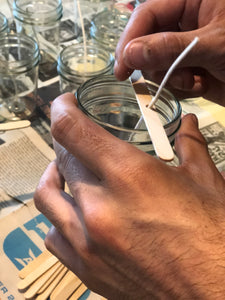 Partial Proceeds benefit Texas Humane Heroes
Texas Humane Heroes is a no-kill shelter that relies solely on generous monetary donations to keep all their animals happy, healthy, and fed. Partial proceeds of every sale will be donated to Texas Humane Heroes to continue their mission. Thank you for your generous donations!!